Welcome to the Four time award winning company
Join The Organic Movement!
We are on a mission to save lives through indigenous organically grown turkey berry-based food products that helps support blood health, a strong immune system, and healthy nutrition for both local and export markets.  Our foods are processed by a team of HACCP Certified professionals and trained smallholder farmers who grow quality plants for tasty foods for YOU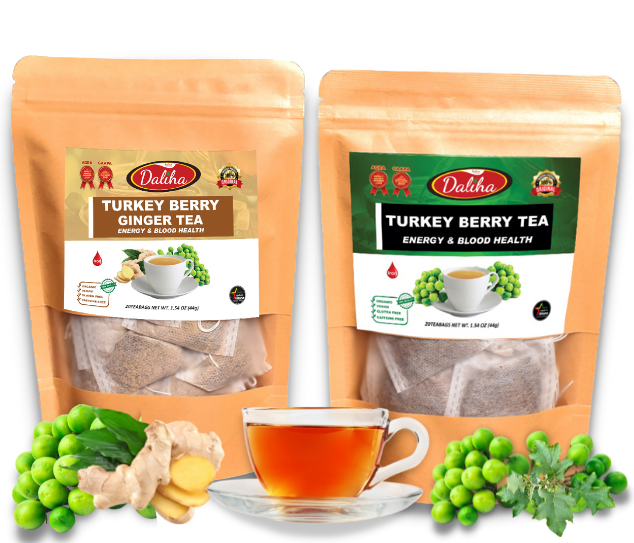 DALIHA TURKEY BERRY and berry ginger tea
It's ORGANIC. Rich in IRON and ANTIOXIDANTS and helps stimulate the production of red blood cells
Helps boost energy and prevent frequent tiredness and weakness
Helps boost brain function, focus, and concentration

Daliha Turkey Berry Turmeric Tea
energy & Heart health NUTRITION
It's ORGANIC. RICH IN ANTI-INFLAMMATORY PROPERTIES.
Helps regulates the contractions of heart muscles,
Maintain fluid balance and blood flow in the body and reduces the effect of sodium
Helps control blood pressure rate and heart function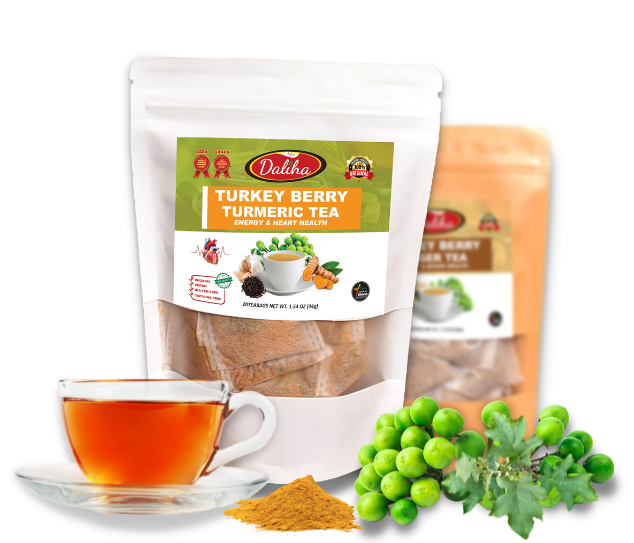 Daliha Turkey Berry CINNAMON tea
Energy & BLoOD SUGAR NUTRITION
It's ORGANIC. RICH IN POLYPHENOLIC ANTIOXIDANTS COMPOUNDS 
Helps sensitize cells to breakdown glucose at a steady rate and  improve insulin sensitivity
Helps boost energy and prevent frequent tiredness and weakness
Helps maintain blood sugar balance and control blood sugar spikes
Achieving Health In An Organic Way

My boy of 7yrs old had severe cold. I decided to add Daliha Berry Ginger Tea to his breakfast meals and within 4 days he recovered so well. I believe in this product. Its very good for children too.
I usually get some allergies when I drink other teas but when I first tried Daliha Tea I had no allergies. I really enjoyed it.
I love this product. We need to promote made in Ghana products. I enjoy the Turkey berry ginger tea....